Location
Ownership
History & Geology
Mineral Resources
Exploration Potential
Location
Location and Access
The flagship Silver Sand Project is located ~35 km northeast of the world-class Cerro Rico silver and base metal mineral system near Potosi in southwest Bolivia.
The 5.42 km² Property sits in the Eastern Cordillera at an elevation of ~4,050 metres above sea level and consists of:
The 3.17 km² Silver Sand "Administrative Mining Contract" (AMC) concession hosting the core Silver Sand Deposit, and

The Jisas, Jardan and El Bronce concessions comprising the North Block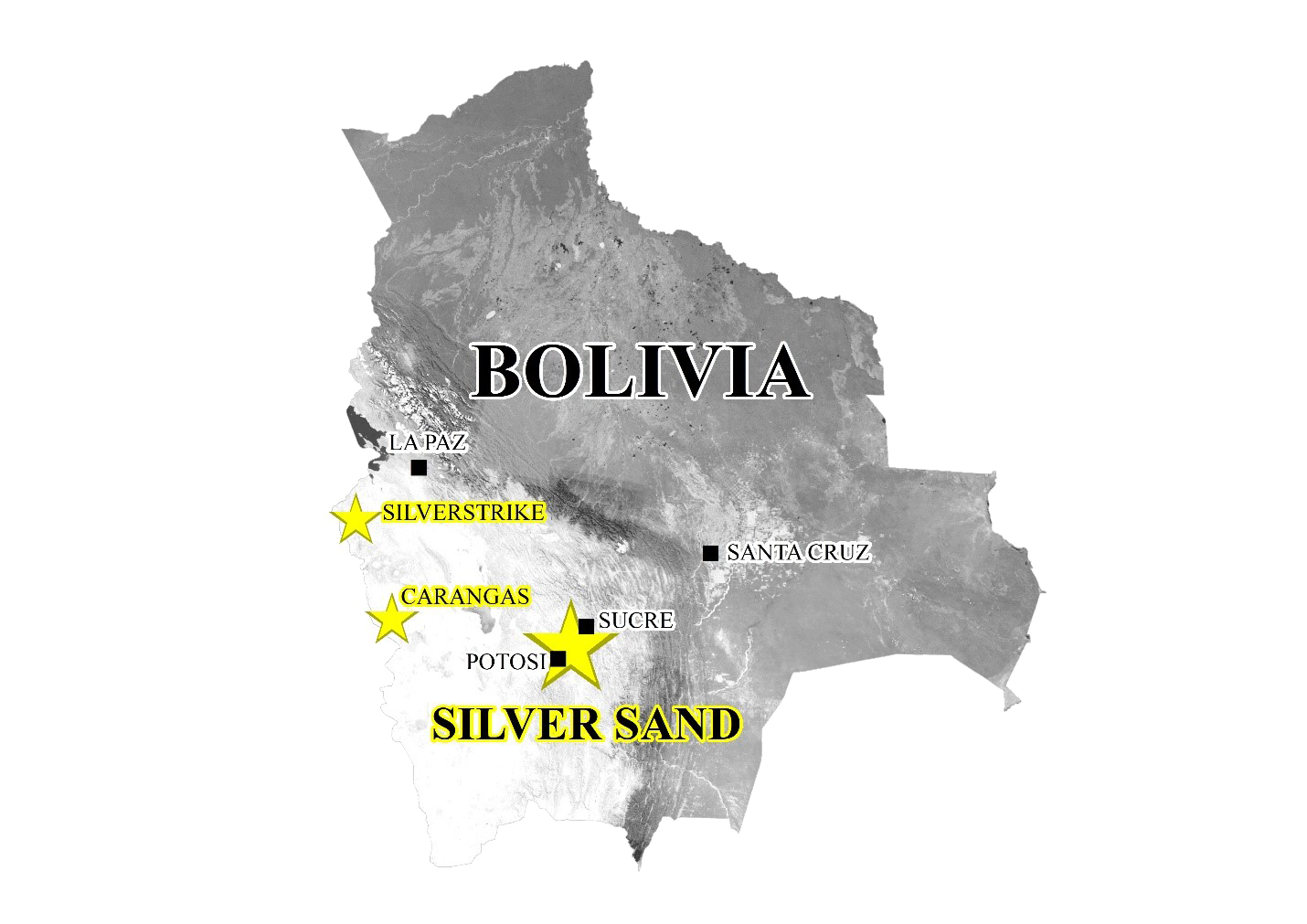 The Property is accessible from Potosi via a 54 km long road made up of a 27 km stretch of the paved Bolivia National Highway 5 and an all-season gravel road built for mining in the Colavi District.
Ownership
Mineral Concessions & Ownership
The Ministry of Mines and Metallurgy grants exploration and mining rights in Bolivia through the Autoridad Jurisdiccional Administrativa Minera (AJAM). Under the 2014 and 2016 Bolivia Mining Laws, tenure is granted as either an exploration license for early-stage projects or an AMC for development-stage projects. Tenure held under the previous "historic" legislation was converted to Temporary Special Authorizations (ATEs), formerly known as "mining concessions"; these ATEs are required to be consolidated to new 25-hectare sized cuadriculas and then converted to AMCs. AMCs created by conversion recognize existing rights of exploration, exploitation, and development, including treatment, foundry refining/smelting, and trading. AMCs have a fixed term of 30 years and can be extended for a further 30 years if certain conditions are met. Each AMC requires ongoing work and the submission of technical work plans to AJAM.
The AMC for the Silver Sand Project, which hosts the Silver Sand deposit, covers an area of 3.17 km². The total area under full control of the Company will be 5.42 km² after completing the consolidation and conversion procedures for the North Block, which is comprised of three ATEs (Jisas, Jardan and El Bronce).
New Pacific signed a revised Mining Production Contract ("MPC") with the Mining Corporation of Bolivia ("COMIBOL") in January 2022:
Exploration and mining rights on 56.3 km² surrounding the Silver Sand Project

Minimum investment of $6 million during the first five years of mineral exploration

New Pacific will cover 100% of the future expenditures; COMIBOL will receive a nominal gross smelter royalty on metal produced

The MPC remains subject to ratification by the Bolivian Legislative Assembly
History & Geology
History, Geology, Mineralization
One of Bolivia's earliest mineral discoveries, Silver Sand was discovered even before Cerro Rico in the mid-1500's. Silver was mined in the core area by Spanish colonial settlers from the early 16th century through the 19th century; subsequently, tin was extracted from the adjacent Colavi and Canutillos mines during the Tin Baron period until the collapse of tin prices in 1985. Numerous small mine workings, artisanal mining dumps, and abandoned miners' villages are scattered across the Property.
Bedrock in the Property area mainly consists of Cretaceous sedimentary units, including the lower La Puerta Formation and the upper Tarapaya Formation. The La Puerta Formation consists of sandstones unconformably overlying highly folded Paleozoic marine sedimentary rocks. The Tarapaya Formation conformably overlies the La Puerta sandstones in the central part of the Property and comprises siltstones and mudstones intercalated with minor sandstone. Both the Cretaceous and Paleozoic sedimentary sequences are intruded by numerous small Miocene subvolcanic dacitic porphyry intrusions.
Silver mineralization is hosted by faults, fractures, fissures, and crackle breccia zones in the Cretaceous La Puerta brittle sandstone and porphyritic dacitic dikes, laccolith, and stocks. Open spaces in mineralized sandstone are filled with silver-bearing sulphosalts and sulphides, occurring as sheeted veins, stockworks, and veinlets, as well as breccia fillings and minor disseminations. Most silver mineralization at Silver Sand is structurally controlled, with intensity depending on the density of various mineralized vein structures developed in the brittle host rocks.
The most common silver-bearing minerals include freibergite, miargyrite, polybasite, bournonite, andorite and boulangerite. The mineralized zones have been irregularly oxidized, which, in some areas, can result in significant mixed oxide and sulphide zones due to the strong local influence of sub-vertical fractures. Oxide minerals are dominated by jarosite, goethite and minor hematite, resulting in pervasive staining within sandstones and pseudomorphing of sulphide minerals within veins. A total of ten mineralized prospects have been identified across the Property to date, including the Silver Sand deposit and the El Fuerte, Snake Hole, North Plain, San Antonio, Esperanza, Jisas, El Bronce, Mascota, and Aullagas occurrences.
Four mineralization types have been recognized in the Property, including (1) sandstone-hosted silver mineralization, (2) dacitic porphyry-hosted silver mineralization, (3) hydrothermal breccia-hosted silver mineralization, and (4) manto-type tin and base metal mineralization. The first three mineralization types are considered to have been developed in an epithermal environment during the late stage of the Cenozoic orogenic movement in the Eastern Cordillera. They are typical of the Bolivian polymetallic vein-type deposits represented by the giant Cerro Rico de Potosí silver mine in Potosí. The manto-type tin and base metal mineralization was formed by metosomatic replacement associated with a mesothermal environment during the early stage of the Cenozoic orogenic event.
Mineral Resources
Mineral Resource Estimate, Technical Highlights, Catalysts
On November 28, 2022, the Company released an updated NI 43-101 Mineral Resource estimate (MRE) for the Silver Sand Project, superseding the project's inaugural MRE tabled on April 14, 2020 (effective December 31, 2019).
Exploration Potential
Exploration Potential at Silver Sand
Silver Sand North Blocks (El Bronce, Jardan, Jisas)
The North Block occurs across Cretaceous sandstone terrains and the Eastern Intrusive Trend at district scale. The geology of the North Block differs considerably from that of Silver Sand as it contains both sandstone units and dacitic intrusive rocks. Notably, the El Bronce property contains numerous historic mine workings that exploited both steeply dipping and flat-lying, high-grade, silver-rich polymetallic veins over an area approximately 500 m wide by 1 km long in strike. Detailed geological mapping indicates that the intrusive host rocks are pervasively flooded by moderate to intense alteration, reflecting the passage of silver-rich hydrothermal fluids (phylic alteration (sericite) with local argillic (kaolinite) and propylitic (chlorite-epidote) zones). Surface mapping has also identified good to moderate micro-veining and stockwork development between the principal historically exploited structures, thereby forming an attractive bulk tonnage target. In contrast to El Bronce, the mineralization of Jisas is hosted in numerous open fractures developed in bleached Cretaceous quartz sandstones, similar to that of the Silver Sand core area. Jisas has seen small-scale underground mining before its acquisition by the Company. Chip samples from surface outcrops and underground workings as well as grab samples from mining dumps taken by the Company returned silver grades ranging from tens of grams up to nine hundred grams per ton.
Importantly, the geology, alteration, and style of existing silver mineralization at the North Block provide compelling evidence that the Silver Sand deposit forms part of a larger regional to district-scale, silver-rich, hydrothermal system or systems whose exploration potential remains to be unlocked.
New Pacific recently commenced a 5,000 m drill campaign at both Jisas and El Bronce prospects. Drill results will be released once available.
Silver Sand